Christmas in Killarney 2019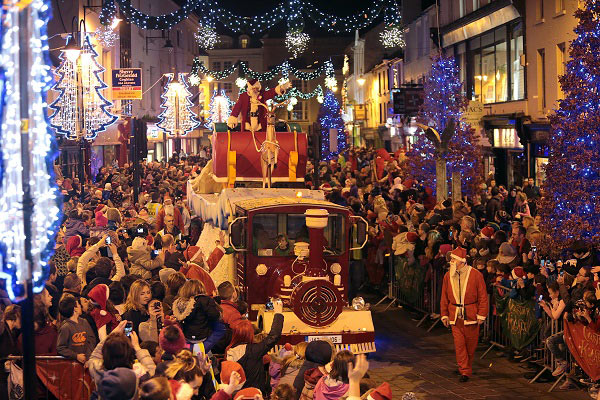 There has always been something magical about Christmas in Killarney, but it's even more enchanting in the elegant surroundings of Coolclogher House. Make the most of your holiday time with us and enjoy some of the Yuletide sparkle that the Christmas in Killarney festival brings.
This year's festival programme is crammed with seasonal crackers, so you won't be short of things to do this December and January in Killarney. Here are some of the events we are looking forward to in the 2019 Christmas in Killarney programme:
Christmas in Killarney Parades
Santa does not wait until December to arrive in Killarney. He gives us a special visit with his first appearance in a parade on Saturday November 23rd. Even at this, his busiest time of the year, he has graciously agreed to lead five more parades over the Christmas period. Feel the Christmas spirit warm up even the frostiest Scrooge, as the array of floats weaves its way through the town of Killarney. Parades start at 6pm, with dates as follows:
Saturday 23rd November
Saturday 30th November
Saturday 7th December
Saturday 14th December
Saturday 21st December

Dine in Killarney
If you love good food, and you're also partial to good value, Dine in Killarney is for you. This ingenious part of the Christmas in Killarney festival sees dozens of restaurants across the town offering a three-course meal for just €30. It's the ideal way to ease yourself gently into the festive season, without putting a dent in your shopping budget. Dine in Killarney takes place on Thursday November 21st and Thursday November 28th between 6pm and 10pm.
You can enjoy Dine in Killarney at many restaurants in the town. Check the Christmas in Killarney website for more details.
Killarney on Ice
Families across the region are looking forward to the return of very cool event in Killarney's winter calendar: Killarney on Ice arrives in the Beech Road car park on November 29st and stays there until January 6th. Enter an icy heaven with family and friends, and if you're not a confident skater, there are plenty of helpful staff on hand to guide you. See the website for information on prices, times, discounts etc.
Kerry Christmas Bikers
Kerry bikers can chase away the winter blues with the Kerry Bikers Backward Christmas Bike Run. Meet at Sheehan's Centra on the Muckross Road on December 15th at 11.30AM for the annual charity run. It doesn't matter what kind of bike you have, all you need is a donation of €10 per bike, which will go to good causes in Kerry. If you're in Tralee, you can start earlier, at 10.30AM, at Corrib Station on the John Joe Sheehy Road. Refreshments will be served after in Scotts Hotel.
Santa's Cottage Old Market Lane
It wouldn't be Christmas without Santa. The man in the red suit will be returning to his cottage in Old Market Lane Killarney on various dates coming up to Christmas and he's excited to meet you all. As well as meeting Santa himself, you can see the elf's beds and the North Pole Orb and leave your Christmas wish on the wishing tree. In between preparing for Christmas, Santa will be meeting the boys and girls on the November 20th and December 1st, 7th, 8th, 14th, 15th, 20th, 21st, 22nd, and 23rd from 1.00PM to 5.45PM. Admission: €5 per child (including a small token) and €5 per adult (no need to book).
What are you looking forward to about Christmas in Killarney?
We'd love to hear from you!