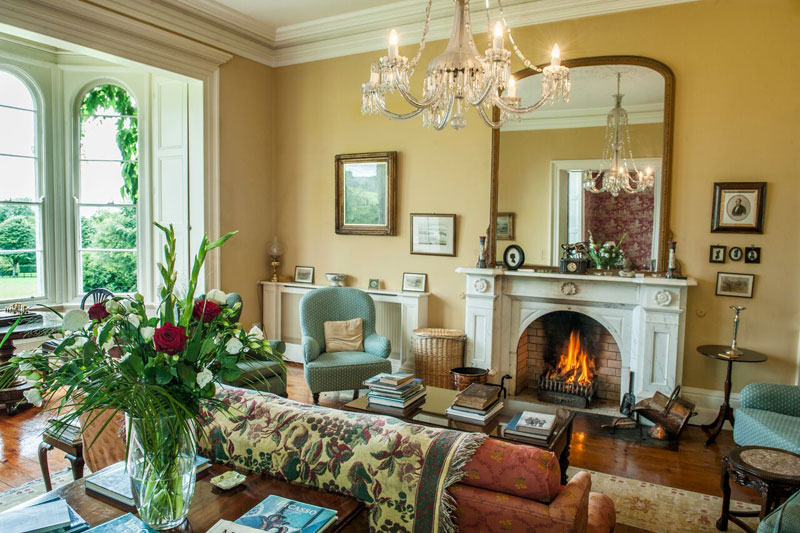 Accommodation
Large holiday home in private estate. The large 7 bedroom and 8 bathrooms luxury holiday rental home offers accommodation for small and larger families and friends groups.
Coolclogher is ideal for celebrating a special occasion. Guests love the manor home and the Killarney location close to Killarney National Park and walking distance to Killarney town.
Restored Manor House
It has been lovingly restored by the Harnett family to the highest standards to provide guests with luxurious self catering rental accommodation in a beautiful and unique setting, lush green landscape with a mountain backdrop. Coolclogher House rental manor is hidden away in a 68 acre walled estate which is very private and secluded.
The 7 large bedrooms can be made up with large super king beds, twin beds and some treble to suit guests requirements this flexibility works well for our guests. We use top of the range white Egyptian cotton bed linen.
The Rooms and Gardens at Coolclogher
Reception rooms are welcoming, spacious, stylish and comfortable with open fires to warm the spirit. Stacks of books, maps and daily newspapers, fresh flowers and soft wool rugs on richly polished wood floors make Coolclogher House vacation rental is a delightful alternative to hotels in Kerry.
The fields and gardens surrounding Coolclogher House are perfect for a relaxing stroll and maybe you'll see some Irish wildlife on your walk, the perfect photo opportunity or discover an ancient Celtic site.
At Coolclogher House you can read for hours undisturbed, wander in the secluded gardens or let your mind drift away whilst enjoying the majestic landscape of the 'Ring of Kerry'. Wi-fi internet access and satellite TV are also available. Many catering options available to holiday rental guests who do not wish to cook during their vacation.
House Rental in Killarney
Coolclogher Manor House is a very charming vacation rental where guests can make the whole house their 'home from home' on a week by week basis. Coolclogher's generous proportions, elegant period decor and modern conveniences make it an ideal vacation home on the Ring of Kerry route.
Located on the outskirts of Killarney town, guests will find plenty of choice for eating out and entertainment, yet they can also enjoy the privacy and intimacy afforded by Coolclogher's private grounds.
We can organise your transport,tour guide and day trips with detailed itineraries  to suit all our guests requirements.
Family groups, a get-together with friends or the chance to celebrate a special occasion in style and elegance – whatever your vacation needs Coolclogher Manor House can offer accommodation to suit, with 7  guest rooms all with bathrooms .
The large vacation rental manor is also an ideal base for golfers there are championship and local courses here >>
Our accommodation
Accommodation in this beautiful period Vacation Home comprises:
2 sitting rooms
7 bedrooms (all with private bathroom)
Separate shower downstairs
Dining Room
Victorian Conservatory with Camellia Tree
Beautiful large country kitchen
Rates and availability, please phone or email us.
A quiet break or an activity filled holiday
Coolclogher House really is the ideal property for anyone searching for a luxury vacation rental for a quiet country break. Although set in a secluded location near to the historic town of Killarney (ensuring complete privacy and tranquility), there are numerous leisure facilities close by, allowing guests to make their stay here as active or as restful as they want – Walking, Golfing, Hill Walking, Mountain Hiking are just some of the activities on offer.
The Ring of Kerry
The Ring of Kerry region in Ireland enjoys a mild climate due to the Atlantic Gulf Stream. Three quarters of the area is hill, mountain, marshland or pasture that either plunges into steep river valleys or plummets over sea cliffs, making this wild natural landscape a rare find.
Coolclogher House is the ideal vacation home base for exploring the Kingdom of Kerry and neighbouring counties.
For whole House Rental Rates and availability, please phone or email us.