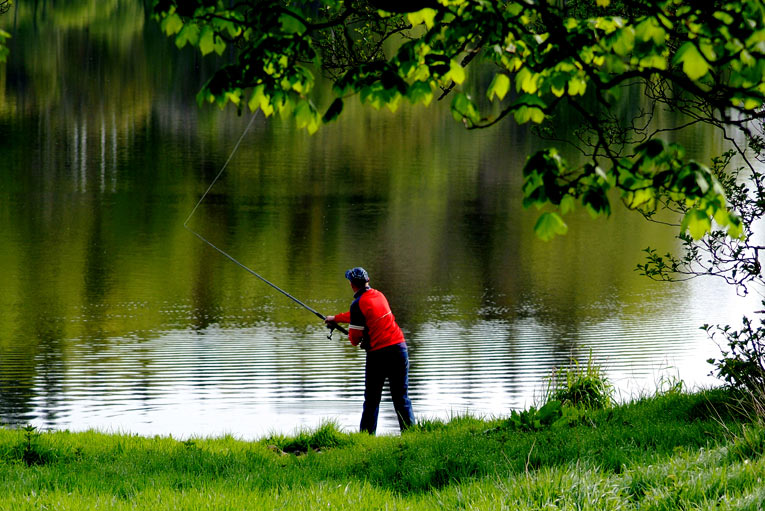 Fishing
Coolclogher House offers fishermen and anglers a truly unique location with superb luxury self catering  accommodation for their fishing vacation in Ireland. The Ring of Kerry region of Ireland abounds with numerous rivers and lakes which provide some amazing Trout and Salmon Fishing.
Coolclogher House Killarney  is an beautifully restored luxury historic available to rent on a whole house basis – perfect for an not to be forgotten Angling Holiday in Kerry Ireland.
The location is perfect for guests not interested in fishing the chance to catch up on other activities such as playing golf in one of  top clubs, walking/biking many paths  gardens and mountains to explore. Spa and shopping days.At Coolclogher House we can help arrange many day trips and activities there is something for everyone to do in Killarney Kerry a beautiful area. Our fishing guests feel happy that everyone is catered for and can concentrate on catching fish. A trip to the pub on the way home to celebrate and chat with friendly locals. For more information please see our activities page or email us. We look forward to welcoming you to Coolclogher House Killarney.
Killarney Lakes
The Killarney Lakes are three in number, Lough Leane, Middle Lake and Upper Lake. It is excellent for salmon and brown trout. Trolling for salmon with either spoons or minnows is the most popular method used. Fly fishing for trout with wet flies is very effective but spinners can also be used. The most popular flies are Bibio, Black Zulu, Jungle Cock, Bog Fly, Alder and early in the season Hawthorns and Duck Flies.
You will also find some wonderful wild brown trout fishing in the Gap of Dunloe/Black Valley region. This area is full of small lakes and streams. Especially for the dedicated fly angler, you will have great fun with small brownies. The Lakes of Killarney are famous for their beauty – a truly magical place with a mild climate.
River Flesk
Walking distance from Coolclogher House. Stunning scenery. Great fishing – salmon, brown trout and peel (grilse). This is a medium size spate river. All methods of fishing allowed. A stretch of the river runs through the Coolclogher lands by the Old Mill. A truly unique location.
River Laune
The river Laune is 10 minutes from Coolclogher House. This is lightly fished river ideal for salmon sea trout and brown trout. It is excellent for fly fishing as water reaches 48 degrees for most of the day. We can advise on the best type of fly to use. The River Laune is 18 miles long stunning landscape and a mountain back drop.
River Black Water
The River Black Water is a spate river, 8 miles long. There is a sixty acre lake at the top. Excellent fishing, salmon and sea trout.
Upper Carragh
Upper Carragh is 20 minutes from Coolclogher House, set in wild rugged country, the real Ireland. For serious fishing this spate river comprises of seven named beats, one rod with exception for partner. Fantastic fishing, salmon, grilse and trout.
Sea Fishing – Day Trips
This is a fantastic day out and can be arranged through a local expert. Six people to a boat and all equipment provided.
Permits & Licences
Permits are required for fishing on the rivers Flesk and Laune but not on the Killarney Lakes.
Tuition
Tuition for all levels can be arranged with all Ireland fishing champions. Coolclogher House can book boats and fishing trips on the Killarney Lakes and rivers for you our guests.