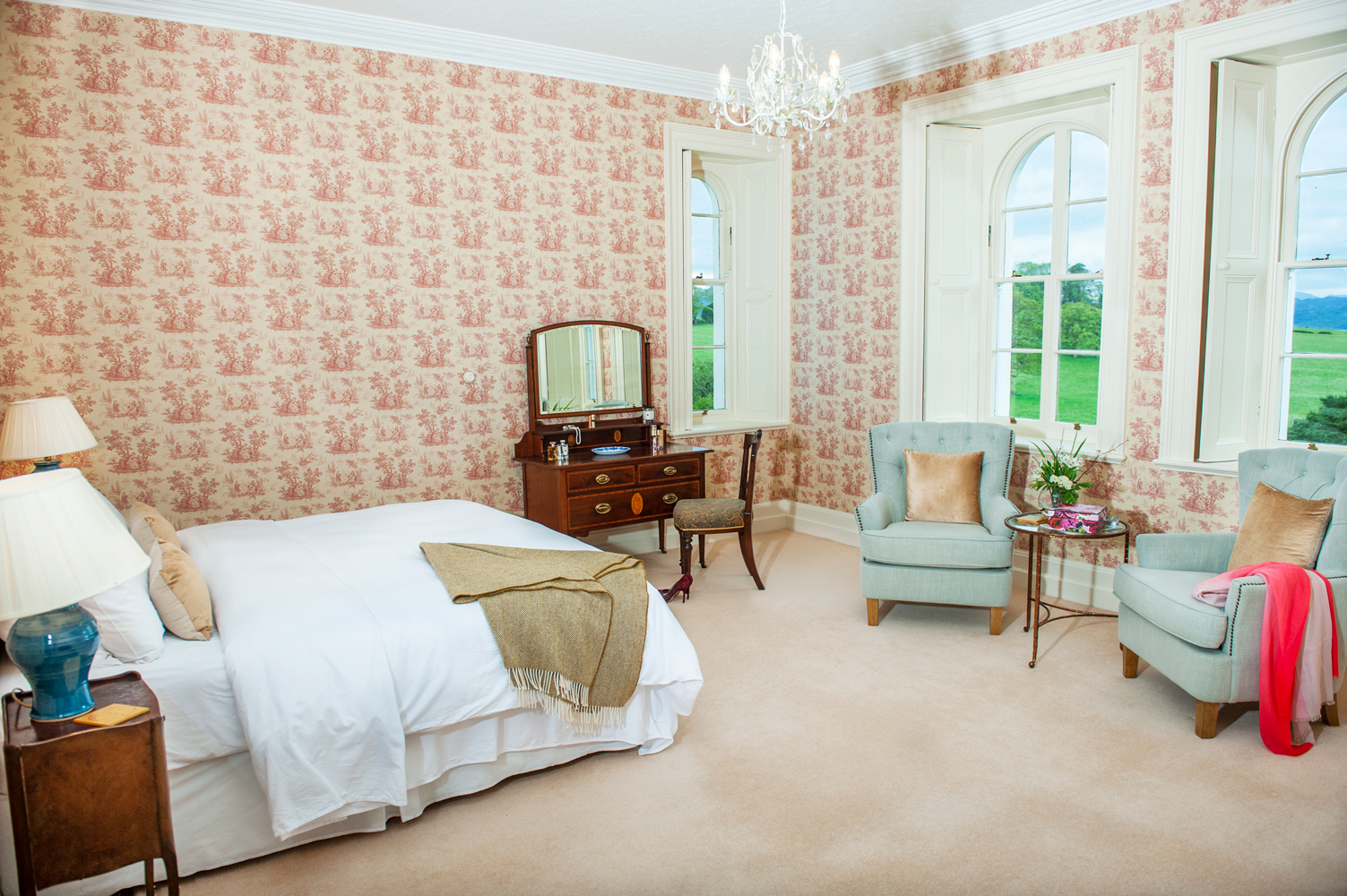 The Rose Bedroom
The Rose Bedroom at Coolclogher House is a guest favourite. The three large bay windows flood the room with sunlight and offers beautiful views. Looking out, you can watch over the lawns and parkland at the front of the house framed by a mountain backdrop, which is the perfect spot to watch the sunset. If you look carefully, you can spot the Lakes of Killarney and sheep in the distance.
The Room
The loving restoration of the bedrooms mean they have been decorated to be in keeping with a manor built in 1746. The rose and beige toile wallpaper is complemented by antique white woodwork and a soft cream carpet.
The true hero piece of the room is the original Kilkenny marble fireplace with over mantle. Beautiful antique furniture helps to create a wonderfully home like atmosphere and this includes two soft blue armchairs, a mahogany dressing table and antique chairs.
Restored antique window shutters
Many guests never close the shutters as they prefer to wake up and see the scenery. All our guests enjoy a great nights sleep.
Dressing area
The dressing area includes plenty of storage with large built-in closets for both folded and hanging clothes. These are beautifully hand made and  painted in a historic antique white colour by local craftsmen.
The Bathroom
There is a large ensuite bathroom with a powerful modern shower and plenty of storage for all your toiletries. The room has been decorated with the same toile wallpaper and is superbly rounded off by large cream tiles.
The Rose bedroom is the perfect room to relax at the end of a fantastic day. Just imagine unwinding here after exploring Killarney and the surrounding area.
Renting a large holiday home offers so much more flexibility to guests and many have described their stay as "A small piece of heaven"…