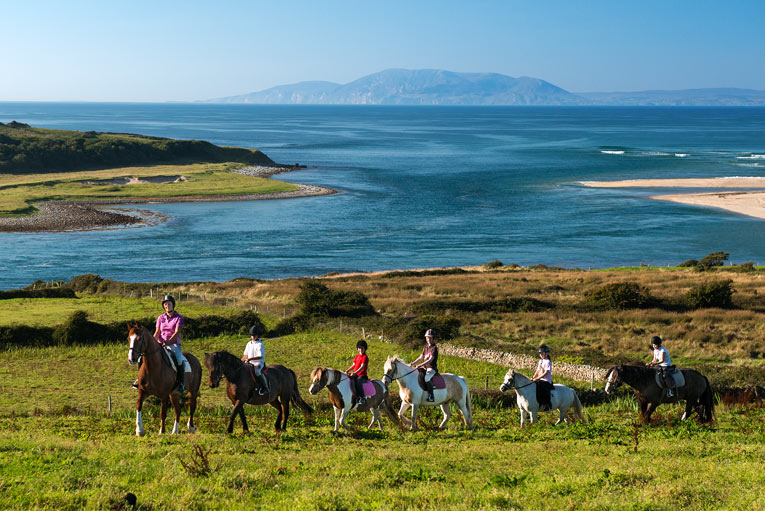 Horse Riding Killarney
A Horse Riding or Pony Trekking holiday amongst the mountains, lakes and valleys of Kerry is awaiting you at Coolclogher House. Trails through and around Killarney National Park are just some of the wonderful countryside to be explored on horseback.
Riding along a beach early in County Kerry is just magical.
Coolclogher House offers riders superb standards of luxury rental accommodation and we can make all the necessary arrangements with local riding stables for you during your stay here at Coolclogher House Killarney.
Irish Tourist Board and A.I.R.E approved
The Killarney Reeks Trail: This trail provides an unequalled opportunity to explore the highlands of Kerry with the majestic MacGillycuddy Reeks, Ireland's highest mountain range. Ride on country lanes and mountain tracks and some of the beaches at Waterville and on the magnificent stretch of golden sand at Rossbeigh.
Killarney National Park: there are a number of Hacking, Trekking and Trail Rides on offer lasting for 1, 2 or 3 hours duration and taking in Ross Castle & Ross Island with beautiful views of the Killarney Lakes and Mountains
Irish Tourist Board and A.I.R.E approved
Located at the foot of Mangerton Mountain, 3½ miles from Killarney in Muckross, the heart of Killarney National Park. Rides of 1, 2 or 3 hours duration on offer with horses, cobs and ponies for riders of all ages and capabilities – hard hats and boots provided.
Black Valley Riding School Ltd
A.I.R.E approved
Situated in the Black Valley and offering treks of varying degrees of difficulty through the wild and wonderful scenery in the Black Valley lasting anything from a couple of hours to a whole day.
Mountain Top Riding Stables
Gortnakilla, Clonkeen, Killarney