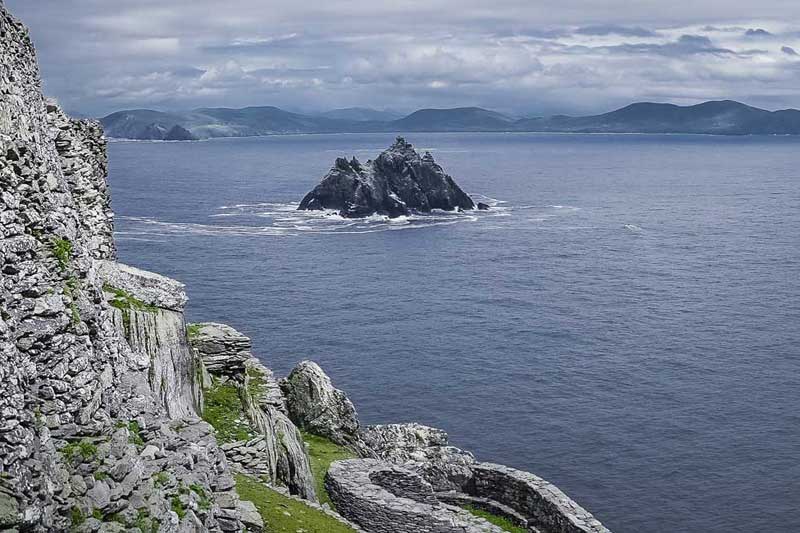 Sightseeing Killarney and Kerry
Situated in the southwest corner of Ireland, County Kerry is a region of spectacular scenic beauty. The MacGillycuddy's Reeks which include Irelands highest mountain Carrauntoohill (1,0390 metres 3,414 feet), the Lakes of Killarney, beautiful sandy beaches, dramatic cliffs and numerous rocky headlands are just some of the natural attractions that make Kerry one of Ireland's premier tourist areas.
There are three peninsulas jutting into the Atlantic Ocean – Dingle Peninsula, Iveragh Peninsula and the Beara Peninsula each with areas of interest and unlike many other areas of Ireland, Co. Kerry is noted for its relatively mild climate, which is due to the influence of the Atlantic Ocean and the warm waters of the Gulf Stream.
The Gap of Dunloe
The Gap of Dunloe, is a magnificent glaciated valley comprised of high cliffs and isolated lakes. Formed over 20,000 years ago when great glaciers carved a path through Ireland's highest mountain range, the MacGillicuddy's Reeks. Towered over by Tomies and Purple Mountain behind which lie the Lakes of Killarney.
The Gap of Dunloe today with its cliffs and waterfalls, is one of Co. Kerry's most beautiful valleys. This natural beauty is one of Co. Kerry's prime tourist attractions, which can be viewed via jaunting cars from Killarney, pony trekking or simply on shank's mare (On Foot!).
Muckross Gardens & Traditional Farms
Muckross Gardens beside Muckross House contain a fine variety of trees and shrubs. Of particular note are the collection of Azaleas and Rhododendrons and an extensive water garden and a rock garden on a natural limestone outcrop. There is also an arboretum featuring a wide range of hardy trees.
Muckross Traditional Farms takes you for a stroll down memory lane, to a time before the advent of electricity when all work was carried out using traditional methods. Meet and chat with the farmers and their wives as they go about their daily work in the houses, on the land, and with the animals.
Muckross House
Muckross House is a magnificent Victorian mansion located on the shores of Muckross Lake near Killarney. This stately home, built in 1843, is set in the splendour of Killarney National Park. The furnished rooms of Muckross House contain some locally carved furniture and items of historic interest. Inside the house, skilled craftspeople including a book-binder, a potter and a weaver can be seen at work producing high-quality crafts. Muckross House is open to vistors with the entrance being through the main entrance to Killarney National Park. www.muckross-house.ie
The Ring of Kerry
No trip to Co. Kerry would be complete without taking in The Ring of Kerry. This is the name given to the 250km coast-road circuit of the Iveragh peninusla and is one of Ireland's most famous tours. Running through an area of oustanding natural beauty, the circuit takes in the towns of Killarney, Kenmare, Parknasilla, Sneem, Derrynane, Waterville, Cahersiveen, Glenbeigh and Killorglin. The fishing village of Portmagee, Ballinskelligs, the Skellig Islands and Valencia Island may also be included.
The Skellig Rocks
The Skelligs are small rock-islands situated off the Ring of Kerry, approximately 14km west of Bolus Head in the Atlantic Ocean. The islands comprise of Great Skellig and Little Skellig and are two of the world's most unspoilt places. Great Skellig is interesting for its early Christian monastic remains, while Little Skellig is sanctuary to thousands of nesting Gannets. Lemon Rock and Washer Woman Rock lie close to the Skelligs.
Torc Waterfall
The Owengarriff River cascades through the wooded Friar's Glen into Muckross Lake. A pretty path winds up to the top of this 18m high waterfall, revealing views of Torc Mountain. Disabled facilities: There is a 100mm step at the entrance and the approach paths is a gravel surface. There is no direct access to the actual waterfall.
Killarney National Park
This was Ireland's first National Park and came into being in 1932. The mountainous old red sandstone uplands support large areas of blanket bog, and the remoteness and relative inaccessibility of some of these areas aids the continued survival of Ireland's only remaining wild herd of native Red Deer.
Central to Killarney National Park are its three lakes, all inter-linked but quite different in their respective characters. The lakes support a large population of Brown Trout, as well as an annual run of Salmon, and sport angling has been a popular pastime for generations in Killarney. See our Fishing Page for more information.
The Kerry Way
The Kerry Way weaves its way under MacGillicuddy's Reeks, the country's highest mountains, and through and around the Iveragh Peninsula. It does not climb very high, however, but mainly consists of old paths and green roads. In using these old droving paths and butter roads, the walk is in effect a journey back in time. As the route is higher than present day roads, it improves on what is already renowned viewing. The Kerry Way offers views of some of the most outstanding scenery in Ireland, mountain, valley and coastal.
Local towns and Villages
Killarney, Black Valley, Bridia, Glencar, Glenbeigh, Foilmore, Valentia Island, Portmagee, Cahirciveen, Waterville, Caherdaniel, Castlecove, Sneem, Tahilla, Kenmare, Killarney. Some of the many villages and towns that you can visit along the Wild Atlantic Way Route, The Kerry Way, Skellig Ring and Ring Of Kerry routes.