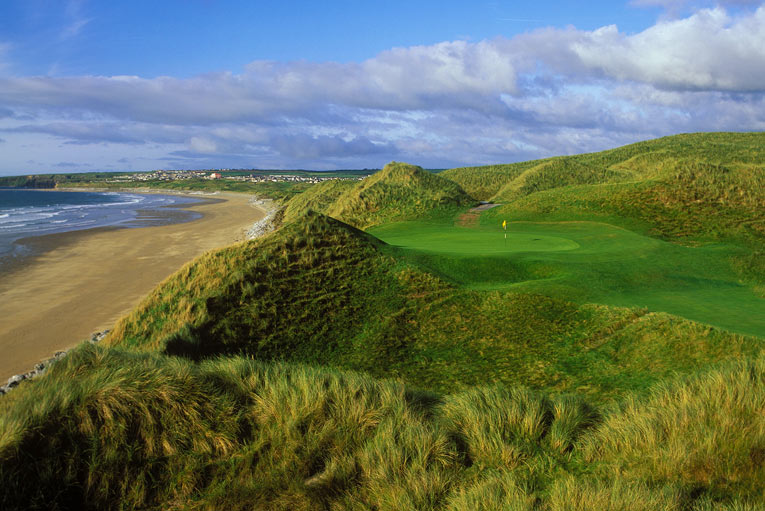 Golf in Kerry
Golf Clubs in Killarney and beyond
Listed below are just some of the many golf courses our guests at the large rental home enjoy playing. Join friendly locals that love a chat at Killarney Golf & Fishing Club a great course ten minute drive from Coolclogher House.
Multi-generation holiday groups take their grandkids to play at Ross Golf Club a 9 hole course five minutes drive from the mansion making memories that last a lifetime.
The wonderful natural beauty of  County Kerry provides a stunning backdrop to many of the links courses detailed below – but beware, with such breathtaking scenery all around, it can be difficult to keep your eye on the ball!
Golf has been played in Ireland for hundreds of years. Keep scrolling to see some of our favourite courses.
Killarney is well catered for non-golfers also – see our page on sightseeing for more ideas.
Killarney Golf Club
Golf has been played in Killarney since 1891. Killarney Golf Club has two courses.
Killeen Course
This is what we like to think of as our pièce de resistance here at Killarney Golf Club, and there is very good reason for such a grand statement. The backdrop to Killeen is something very special indeed and provides golfers with a spectacle that cannot be seen anywhere else in the world. The wonderful lake and mountain views make for a spectacular backdrop to one of the world's most renowned golf courses.Rory McIlroy, Padraig Harrington and Graeme McDowell extol the virtues of the dramatic closing holes on the Killeen course.The flagship of Killarney's  two courses, this is truly one of the greatest courses in the country. It will certainly challenge the longest of hitters AT  and with water on almost every hole accuracy is essential.
Length: 6593m/7252yds
Par: 72
SSS: 73
Mahony's Point
Killarney's second superb course, situated beside the famous Lakes of Killarney, is a good test for golfers of all skill levels. At 6164 metres it is the shortest of the two courses, but with a combination of well undulated greens, well positioned bunkers and water hazards, wayward shots may find big trouble.
Length: 6164m/6780yds
Par: 72
SSS: 72
Tralee Golf Club
Coolocogher House is a short drive for Links Golf.. a real golfers paradise.Tralee Golf club links course is a top rated club representing the first European design of Arnold Palmer. Tralee Golf Club located in South west of Ireland is one of the most spectacularly beautiful golf courses you will ever encounter. And while beauty often masks certain deficiencies in a golf course, that is certainly not the case with Tralee.
Ballybunion Golf Club
Ballybunion Golf Club – Old Course
This top rated links course has stunning views. It is a true seaside links course, virtually treeless and a course of sharp contours throughout. There appears to be no man-made influence. It looks like a course laid out on land back in the 10th century where there is a wild look to the place with long grass covering the dunes that pitch and roll throughout the course .
The Old Course (Est. 1893)
Length: Blue Tees 6,802 yards / White Tees 6,366 yards / Ladies Tees 5,475
Par: 71 Men / 74 Ladies
Ballybunion – The Cashen Course – Links
From the moment that you shoot out of the funnel at the 1st right, up until your final drive over a wasteland, and thence to the magnificent finish of the elevated 18th green, you will have traversed a quite incredible golf course. Many of the green surfaces, traps and contours have been created by nature, no architect could have designed better. There is no more natural a golf hole in the world than the 10th, an outrageously beautiful stretch of God-given terrain but many will consider the 13th to be the most spectacular hole on the course. From the landing area you will be looking at perhaps the most superb green-site that has been conceived. As for the par fives, their length and challenge is matched only by their stunning beauty.
The Cashen Course (Est. 1984)
Designer: Robert Trent Jones Senior
Length: Blue Tees 6,318 / White Tees 5,945 / Ladies Tees 5,055 yards
Par: 72 Men & Ladies
Waterville Golf Club
This links course has been described by one enthusiast as 'The Hope Diamond' on the Ring of Kerry. This course was the dream of Irish American Jack Mulcahy. Designed by Ireland's pre-eminent golf architect, Eddie Hackett, Waterville has achieved status as 'one of the best' in only 25 years. The 14th and 18th holes were selected by Christy O'Connor in his all-Ireland greatest 18. From the 17th tee you have spectacular views of the course, the bay, the sea and the distant mountains. Every hole is distinct with not a weak one to be found among them.
Dook's Golf Club
Enjoy Playing One of Ireland's Oldest Links Golf Courses. If you are on a golfing break in Kerry you won't want to miss the opportunity to play Dooks – a truly magical location for a stunning golf course. Experience breathtaking views and a unique links challenge that golfers have enjoyed since 1889. Guests staying at Coolclogher House Killarney love Dooks and the friendly people.
Ross Golf Club
Unique championship standard 9 hole course, only 5 minutes walk from Coolclogher House. A truly spectacular setting with mountains, lakes, woodland, Ross Castle and Flesk River. Affiliated to the Golfing Union of Ireland and with professional tuition available, Ross Golf Club is the ideal setting to play a relaxed round of golf and meet some of the locals. Refreshments are available all day.Clubs,carts and caddies available at all golf clubs in Killarney Ireland.
Dingle (Ceann Sibéal) Golf Links
The most westerly golf course in Europe perched on the edge of one of County Kerry Ireland's most dramatic coastlines. Dingle Golf Links is a special course to play. Situated in a cauldron of breathtaking beauty that was carved out of the rock in West Kerry. To the east is Mount Brandon, to the south lies Cruach Mharthain, and out to the west the Blasket Islands sit on the horizon. It is the towering headland to the south-west, however, which gives Dingle Golf Links its full Irish name and a unique microclimate where fescue, the champion of links grasses, has thrived in abundance at this challenging links course the most westerly course in Europe.
So much for non-golfers also!
For non-golfing guests. Enjoy a day trip sightseeing, shopping and food. We advise our guests staying at Coolclogher House on things to see. A Guinness before returning to Killarney and the manor for a relaxing evening.
Ring of Kerry Golf Club
The Golf Course – designed By Eddie Hackett & Ron Kirby
The architectural brief was to design a 'world class' golf course that would challenge competent and experienced players from the back tees, yet be playable and enjoyable for the average handicap player from middle and forward teeing areas. The brief also included that the golf course be to a standard capable of hosting professional golf events, both Irish and European.
Lahinch Golf Club
The Old Course is one of two 18-hole courses and dates back to 1892. A classic seaside links layout with rolling greens and undulating fairways, the towering sand dunes that cover the landscape guarantee that golfers will encounter several blind shots. The unpredictable winds coming off the ocean add an interesting twist.
Old Head Golf Links
The Old Head is a stunningly located links course, reaching almost 2 miles out into the Atlantic on the south west coast of Ireland. The course has developed a must sought after reputation over the years. The brainchild of the late John and Patrick O'Connor, many guests renting the manor for their annual vacation play many course during their stay.
Non-golfers can relax at the vacation manor or we can organise a days out sightseeing and many other activities. We are fortunate that there is so much to do and see for golfers and non golfers at Coolclogher House Killarney Ireland.
Coolclogher House provides the perfect holiday rental accommodation for golfing groups visiting County Kerry. Killarney is a Links golfers dream with so many top rated links courses to play every day.
The rental mansion has seven bedrooms and eight bathrooms. Bedrooms have large super king zip and link beds that convert to twins ideal for golfing groups. We can organise catering and cleaning here at the rental mansion.
At Coolclogher House self catering holiday home the dedicated golfer can enjoy an unforgettable round of golf at one of the numerous 18 hole and Championship Golf Courses which are within easy driving distance.
Golf Club locations