Walk the Kerry Way
When you book your accommodation at Coolclogher House, you have the perfect base for exploring the Kerry Way. At 200km long, the Kerry Way is one of Ireland's longest signposted walking trails, and a good substitute for the Camino for those who are fit and enjoy long-distance hiking. Some people even race the Kerry Way every September. You can start and finish the trail in Killarney and either make your way right around the Iveragh Peninsula or just complete a section. Remember, this is not a leisurely stroll, so do not attempt it if you have any doubts about your health or fitness.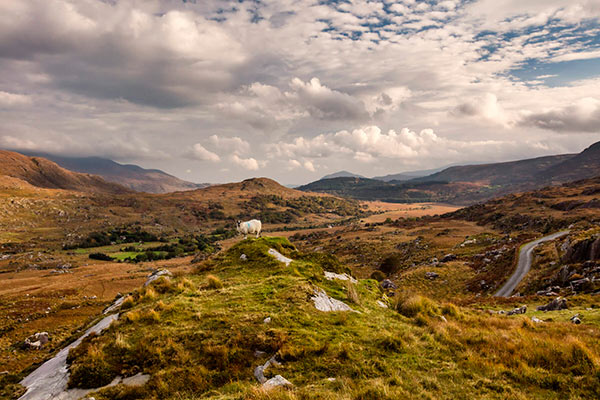 Here is a brief overview of the Kerry Way walking route:
The Route
Distance: 230km
Time Needed to Walk the Kerry Way: 8 days minimum
Ascent: 4,000m
The route of the Kerry Way shadows the Ring of Kerry, which takes you right around the Iveragh Peninsula in County Kerry. Walkers usually follow the route anti-clockwise, heading across the lower slopes of the McGillycuddy Reeks and skirting the shore of the Upper Lake, one of the famous Lakes of Killarney. As you follow the route, you will traverse every kind of terrain, from modern tarred roads to the wilder paths of the mountainy landscape. This is a very different approach to completing the Ring of Kerry, with the signposted trail linking national park tracks and abandoned coach roads and mass paths.
Note: After periods of heavy rain, sections of the route can be flooded, so take adequate precautions and never try to cross a flooded area if you don't know how deep the water is.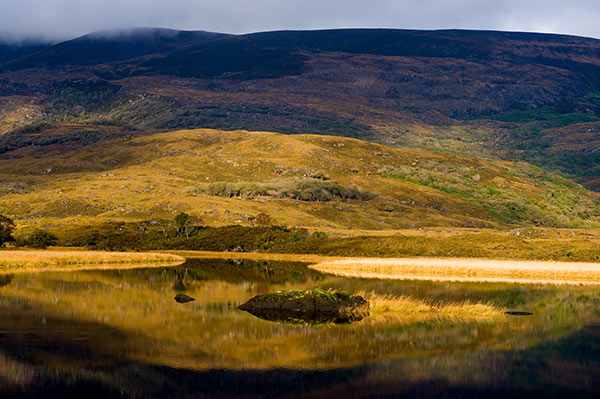 The Kerry Way can be divided into nine sections:
1. Killarney to the Black Valley
2. The Black Valley to the Bridia Valley & The Bridia Valley to Glencar
3. Glencar to Glenbeigh
4. Glenbeigh to Cahersiveen
5. Cahersiveen to Waterville
6. Waterville to Caherdaniel
7. Caherdaniel to Sneem
8. Sneem to Kenmare
9. Kenmare to Killarney
The Landscape
Taking on the Kerry Way is an impressive feat, but one you will remember forever. The challenging route rewards you with the sheer variety and beauty of the landscapes it covers. You can look forward to everything from forests and open moorland to stunning coastal vistas. The trail can be walked over nine days, staying in hostels, campsites or other accommodation en route and following the itinerary outlined above. If you want to make it less of a challenge and experience it more fully, you could choose to tackle sections of it from your Coolclogher House base or take some rest days in between the stages.
The Advice
Taking on the challenge of the full Kerry Way is no mean feat, and anyone considering it should ensure they are physically fit and experienced at endurance walking. Investigate the route thoroughly, and ensure you have all the correct equipment and maps.